Faculty Feature
Recording In-Class Lectures
What can be done for students who can't attend class due to remote location, illness, or travel for business? Dr. Joe Haus of the Department of Electro-Optics and Photonics simply uses a camera, a chair, and Isidore's Warpwire Video tool to record his in-class lectures and post them online for a remotely located student. Hear from both Dr. Haus and the remote student in the video below!
Instructional Design Tip



Are Your Class Sessions Too Short?

Have you ever felt like you're trying to jam 75 minutes of content into a 50-minute class session? When this happens, there is an imbalance of emphasis on the concepts, and students often assume that what you don't exhaustively cover in class, won't be on the test. When test time comes, they unfortunately find this assumption to be inaccurate.

Once upon a time, a UD professor received negative feedback about this very thing. He decided he needed to make an adjustment. So he video-captured parts of his lecture and assigned them as homework to make his class run more like a "flipped" model. Students appreciated this because more class time could be devoted to solving problems, working on projects, and preparing for tests. Their test scores went up, and the professor's negative feedback went down.
Summer is the perfect time to start doing this for your fall courses. To get started, download Snagit to record your lectures. Or, if you want to get fancy, book an appointment to use our Lightboard, an example of which Dr. Mark Masthay of Chemistry has been kind enough to let us share. Either way, the Office of E-Learning is here to assist you!
Preparing Final Grades to Enter into Porches
What's New in Isidore



Entering Grades in the Student Summary Panel

A feature added by popular demand, it is now possible to enter grades in the student summary panel in the Gradebook. Rather than moving horizontally across the Gradebook to enter grades for a single student, you may now enter grades vertically on the panel with only that individual student's grades visible. Watch the video below to learn how.
YouTube Plugin

A YouTube button is now available in the text editor, which allows instructors and students to easily add YouTube videos into Isidore course sites. The plugin is available anywhere the text editor appears. Videos can be added with the video link (URL) or the YouTube embed code.
Improved Organization of the Text Editor

You may have noticed that the location of buttons in the text editor changed. The buttons were rearranged so that they are grouped by function, keeping the text editing options together and the embedded and multimedia elements together. More commonly used features were placed on the left-hand side of the screen to allow easier access to the buttons.

If you have ever been curious about what a particular button does, now is your chance to find out! Each button's function is now available in our E-Wiki.
Did You Know . . .?

At the end of the semester, it can be especially useful to have a view into a student's testing activity in Isidore. There are two features in the Tests & Quizzes tool that can help you see this information, namely the User Activity Report and the Event Log.
The User Activity Report provides you with a list of all assessment submissions for a specific student, including submissions that are no longer available on the Total Scores page because the instructor has allowed the student to retake the assessment. Use the dropdown menu next to "View Student" to select the student whose submissions you'd like to see.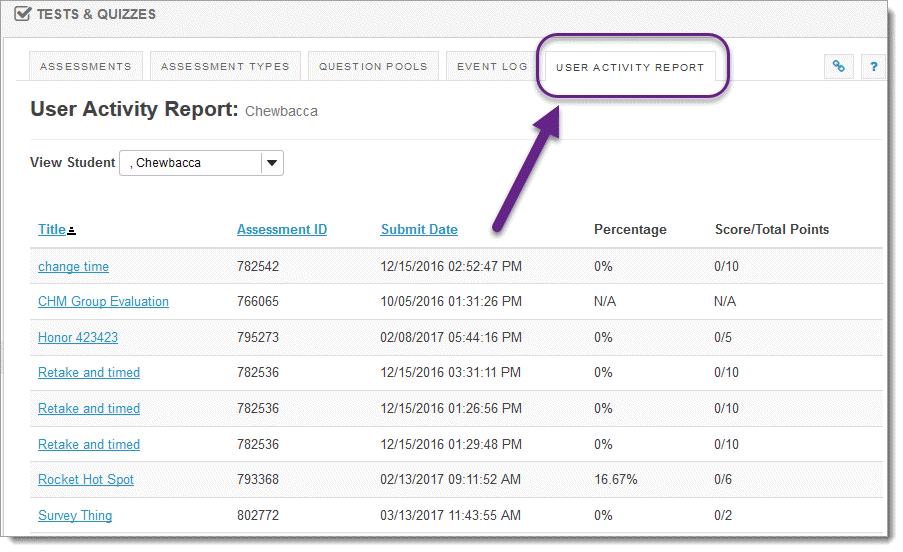 The Event Log is an automated log of student testing activity for all assessments in your Isidore site. For each student, the following items are recorded:
Date and time an assessment was started.
Date and time an assessment was submitted.
Duration of the student's activity in the assessment.
Any errors that were detected by the system. Look here to see if the assessment was automatically submitted by a timer.
The data can be filtered by a specific assessment by using the "Filter log by Title" dropdown. You can search for a specific student's testing activity by typing in their username or name in the "Search" field. The data can be sorted by clicking on the column headings.
Training Opportunities

There's still time for some last-minute training sessions before finals begin! Below is a list of our upcoming training opportunities, facilitated by the Office of E-Learning. All sessions will be held in the Ryan C. Harris Learning Teaching Center (LTC).
Teaching Online This Summer?
Instructors who are teaching online this coming summer are especially encouraged to attend one of the upcoming Teaching Online Support Group meetings. These are round table discussions facilitated by E-Learning staff where faculty can share ideas and advice with one another.
Wednesday, 4/12

11:00 - 12:00 pm

Tuesday, 4/18

3:00 - 4:30 pm

Thursday, 4/20

9:30 - 11:00 am

Wednesday, 4/26

10:00 - 11:00 am
Until Next Time . . .

Let us know any feedback or questions by contacting us at elearning@udayton.edu or (937) 229-5039.