Are We Cheating Students by Worrying About Online Cheating?
"How can I prevent students from cheating online?"

We frequently hear this question, and the concern is understandable. In the article, "Online Cheating," the author evaluates the plight of academic dishonesty and provides suggestions for what instructors can do to curtail its occurrence. While there are plenty of measures in place to prevent students from cheating in the online environment, rarely do instructors take the opportunity to reflect on the aspects of their teaching pedagogy that may trigger students to cheat.
Cheating may occur more frequently when only one or two high-stakes tests are offered across a semester. Students often feel more pressure to cheat in these situations because the outcome will greatly affect their overall course grade. According to the author, however, when several low-stakes tests or quizzes are distributed more evenly throughout the duration of the semester, not only do instances of cheating diminish, but student retention of the material increases.
Online environments provide opportunities to instructors to offer a variety of alternative assessment methods. Research papers, discussion forums, and collaborative group work make it much more challenging for students to cheat. Moreover, students will be building upon their learning throughout the semester, again providing a more continuous picture of their performance.
Possible types of alternative assessment methods include:
Research papers

Reflections

Discussion Boards

Presentations

Demonstrations

Portfolios
Whether face-to-face or online, we will never be able to prevent cheating one hundred percent. There will always be those few who feel the need to be dishonest. However, making minor changes to our methods might not only deter cheating, but in addition may help our students become better learners in the long run.

Would you like to review your assessment strategy? Contact the Office of E-Learning for advice on preventing academic dishonesty.
Linked Checklist items are tasks in Checklists in the Lessons tool that will be automatically checked off by the system when the student completes the task. Students cannot manually check off these tasks. You might use this feature to ensure students read articles before completing an assignment or discussion. Linked items also provide validation to students that their work was indeed recorded by Isidore as the items are checked off automatically.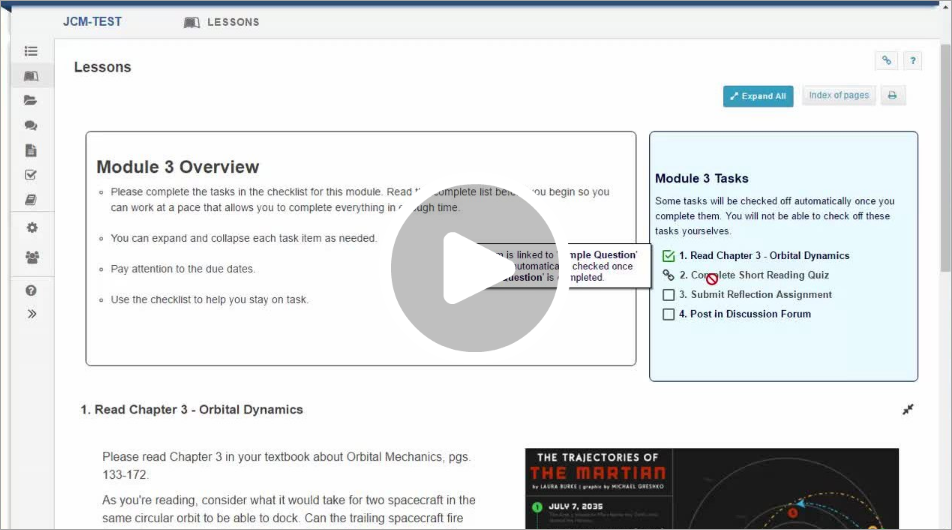 See step-by-step instructions for linking items to your Checklists in our

E-Wiki.
Name Pronunciation Recordings
You may have recently noticed purple and grey play buttons next to your students' names in the Roster tool in Isidore.
A purple button indicates that the student has recorded their name pronunciation using a service called NameCoach. Clicking on the purple button will play the recording of the student pronouncing their name. If the buttons in your roster are mostly grey, consider emailing your students to request that they create their name recordings. It's easy and takes less than 5 minutes following our instructions.
Welcome to a new section wherein we highlight features and tools that you may not know about . . . yet!
Submit Assignment on Behalf of a Student
When a student submits an assignment via email rather than in the Assignments tool in Isidore, it can create extra work for you to re-open the assignment and/or provide further instructions to the student. Save yourself some time by just downloading their emailed attachment and submitting it on behalf of the student.
To submit on your student's behalf, find the View dropdown menu on the main page of the Assignments tool (pictured at right). When the page refreshes, find the student's name for whom you'd like to submit, and click the downward-facing arrow to the left of their name. Click the Submit on behalf of Student link beneath the title of the assignment (pictured below), then find the student's submission on your computer to submit it.
The student will receive an email letting them know that the assignment was submitted successfully, and you can continue grading!
Below is a list of our upcoming training opportunities, facilitated by the Office of E-Learning. All sessions will be held in the Ryan C. Harris Learning Teaching Center (LTC).
Teaching Online This Summer?
Instructors who are teaching online this coming summer are especially encouraged to attend one of the upcoming Teaching Online Support Group meetings. These are round table discussions facilitated by E-Learning staff where faculty can share ideas and advice with one another.
Thursday, 3/23
3:00 - 4:00 pm

Wednesday, 3/29
10:00 - 11:00 am

Tuesday, 4/4
3:00 - 4:30 pm

Thursday, 4/6
9:30 - 11:00 am

Wednesday, 4/12
11:00 - 12:00 pm
Let us know any feedback or questions by contacting us at elearning@udayton.edu or (937) 229-5039.