In effort to standardize the student learning experience during the Spring semester, the Office of eLearning has created an Isidore site for each of your courses based upon a template that emphasizes consistency and organization. The template includes all the tools we think are necessary to facilitate student success and satisfaction.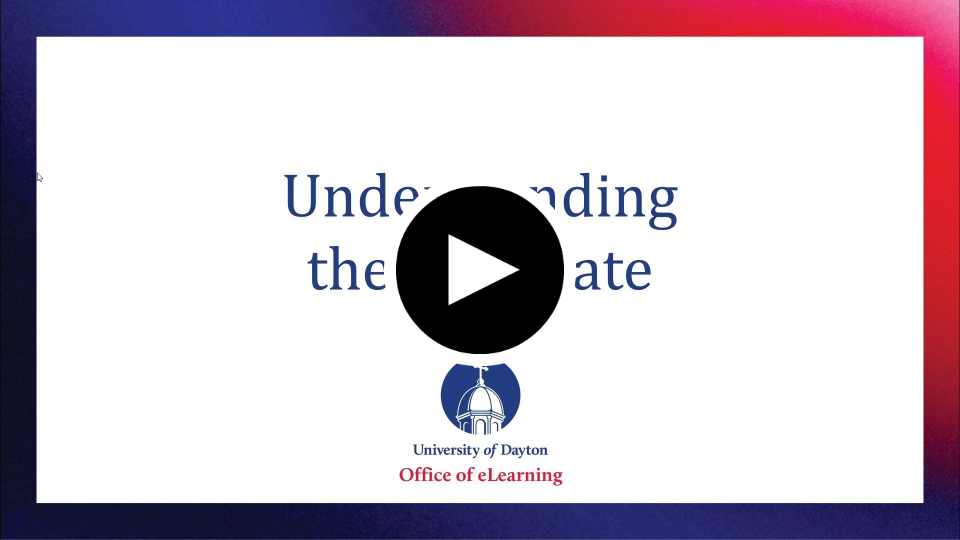 For a brief overview of what is included in the template site, please watch this 4 minute video from our training package or read the description of each tool below. Please review the Course Facilitation & Engagement Guidelines while looking over the description of the tools as it will provide some important context for each tool.
Overview: The landing page for your course site has been configured to give students the most important information they need for your class.
Announcements: We suggest using this tool to communicate with students at least on a weekly basis. All Announcements are also sent to the students' UD email accounts.
Calendar: Students rely on an up-to-date calendar to keep track of the important dates for your class.
Lessons: The Lessons tool is pre-configured with templated weekly pages where you will add all instructions, tasks, and resources that students need for each week.
Assignments: Use this tool to electronically collect and grade students' written work.
Gradebook: A centralized location for all course grades.
Zoom Meetings: Use this tool for live lectures and synchronous activities.
Warpwire Video: Use this tool to upload pre-recorded lectures. You can also configure this tool to allow students to upload their own video presentations.
Roster: Contact information and pictures for everyone in your course.
Frequently Asked Questions
We know you might have some questions about the template sites and have provided answers below.
| | |
| --- | --- |
| Question 1 | Do I have to use the template site? |
| Answer | Although we highly recommend using the template site, you do not have to use the template if you feel that you've created high-quality sites in the past with good results. Please complete this form so that eLearning can remove the site for you. You will then need to create your own Isidore sites for your courses this term. You will be required to use Isidore to, at the minimum, post your syllabus and grades for students for each of your classes. |
| Question 2 | How can I merge my rosters into a single Isidore site? |
| Answer | Fill out this Google Form, and eLearning will merge the rosters for you. |
| Question 3 | How can I import content from previous semesters? |
| Answer | Watch this 3 minute video to learn how to import content. |
| Question 4 | I am teaching as part of a program where my Isidore sites are created for me from a template that existed prior to this year. Do I need to do anything? |
| Answer | No. All pre-existing program sites will be created as normal with the templates that were used in the past. |
| Question 5 | Will you be offering training sessions on how to use this template site? |
| Answer | Yes. We recommend first walking through our asynchronous training, then attending our upcoming training opportunities throughout the summer. |
The template is a starting point that guarantees every Spring site begins with the minimum needed for a good student experience. We hope it helps you, too, find the best way to organize and deliver your content.
Back to Spring 2021 Course Facilitation & Engagement Guidelines